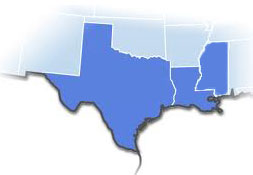 Filter Technology Company Inc., was founded in 1984 to serve the Texas and Northern Mexico air filtration market.  Over the past 30 years we have grown in both the areas that we cover and the products that we provide to our customers.  Today we offer hundreds of different filtration products for all types of applications.  As a company, our focus has always been to partner with our customers, working closely to identify and create the most effective, efficient and economical filtration program for their facility.
Our Sales staff is conveniently located throughout Texas and Louisiana to serve our customers.  We offer training seminars, air filter surveys, belt surveys, preventative maintenance planning, air handler cleaning and restoration, filter change services, indoor air quality testing, life cost filter analysis, air filter energy calculation analysis, and much more….
Our products have grown beyond air filtration to include power transmission belts, UV lights, air filter housings, HVAC pan tabs, coil cleaners, AHU hygiene products, HVAC insulation, water filtration, bi-polar ionization air cleaners, portable air cleaning equipment, gauges and instruments.
Thank you for visiting our site and we look forward to working with you and your facility.