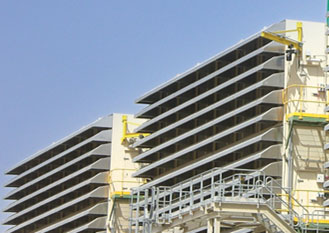 Since 1984, FTC has been providing filtration solutions for the inlets of Gas Turbines and Compressors.  We offer a wide range of the newest cutting edge technology in the industry to help our users operate in the most efficient way possible.
Our capabilities include:
Filtration
Hydrophobic wraps  and pre-filtration solutions
Evaporative cooling media and replacement
(H)EPA, hydrophobic inlet filtration
MERV 8 – 16 and F6 – E12 inlet filtration
Barrier style and cartridge solutions
Services


Turn key inlet housing replacement and refurbishment
Hook vanes and moisture elimination solutions
Acoustic silencers
Inlet filtration and evaporative cooling media installation and disposal
Air inlet cleaning and repair
Warehousing
Just in time delivery
Use the form on the right to schedule your onsite inspection and evaluation.  We look forward to working with you and your facility.